RPA in banking:
RPA is a feature that enables banks to remain competitive in a developing market by automating routine business operations. Customers use RPA banking to perform automatic transactions, advances, withdrawals, and other financial transactions without human participation. RPA provides banks with a rapid return on investment.
These are only a few instances of RPA in the banking system. These digitalization initiatives tend to be at the top of many banks' priority lists.
Banks are employing RPA to automate routine jobs like data input and account management. We live in a world where everything must be accessible 24 hours a day, 365 days a year. It is absurd to believe that a human person would be accessible so that RPA bank robots may take their place. We can teach these computers to understand client behaviors and give superior service throughout time by using AI and intelligent automation. As you know, the Banking system is going through tough competition. It causes procedural issues and provides misleading information. RPA Bank Automation Solutions help you to control manual efforts.
Bank automation solutions:
The utilization of cutting-edge technology in bank automation solutions enables them to offer a wave of performance, cost benefits, and improved client interactions. RPA Bank Automation Solutions can remove redundancy in work and frees up workers that can work for more productive jobs. Banks and other financial organizations are among the most frequent adopters of information technology. Here are two examples of bank automation solutions:
· Asset tracking automation
· Field force automation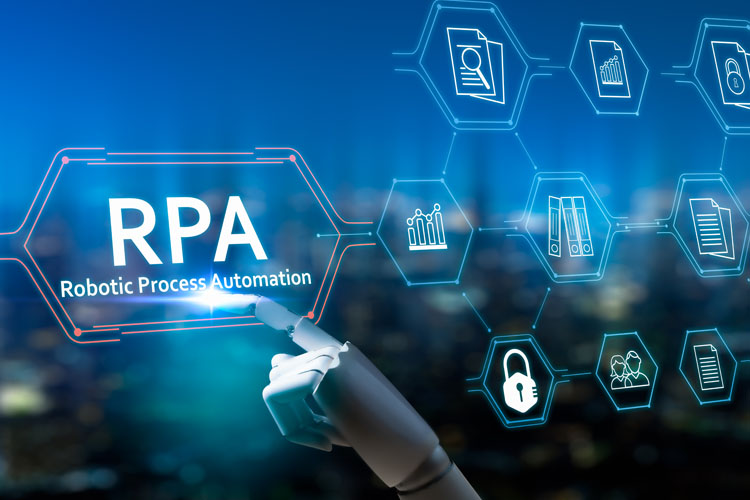 Asset tracking automation:
When an organization monitors its physical assets, this is called asset tracking. You can create proper checks and balances that provide calmness, inhibit asset misconduct, and decrease losses and liabilities with the help of automating asset monitoring activities. Asset tracking is the most crucial bank automation solution. Some benefits of asset tracking solution are here:
· It allows banks to report all of their assets.
· It assists in ensuring the correctness of amortization rates.
· It aids in the identification and management of hazards.
· It eliminates all fictitious acquisitions from the bank system.
Field Force Automation solution:
Field force automation is a procedure that allows field personnel to have easy accessibility to order knowledge and data through a portable device, hence enhancing productivity. Some benefits of field force automation solution are here:
· Banks can thoroughly maintain control of their mobile workers with field force automation.
· A field force management system for banks provides on-the-go cooperation via multi-device flexibility, which allows for genuine tracking of all field operations and helps to reduce response times.
· It is the best opportunity for banks with clients across countries. It helps to merge all field operations in a single location.
Top automated banking processes:
Let's take a look at the most crucial RPA Bank Automation Solutions:
Loan processing:
Loan processing RPA bank automation solution may reduce months-long operations to as little as 10-15 mins. Automation enables the extraction of crucial data from the papers given by the client. Robots use machine learning to make more definitive judgments based on data analytics. Robots provide business rules by requesting the user to rectify inaccurate inputs, resulting in safer loan choices supported by automatic verification message creation.
The account closing procedure:
Every monthly load of account closing demands that banks must deal with is just too great. The primary cause of this overburdening is customer disobedience, which results in late entry of required documentation.
RPA helps banks address this problem by monitoring all assets in real-time and delivering constant automated notifications with extra recommendations for timely filings.
Understand

Your

Client

:
Know Your Client is not only a crucial compliance procedure for all banks but also the most difficult. This procedure requires at least 150 to thousands of Full-time employees to do client reviews. Banks are using RPA to gather consumer data, filter it, and correctly verify it to save money and workforce. RPA enables banks to finish the KYC procedure in a comparably shorter period with fewer resources and more irregular mistakes.
Money Laundering Prevention:
Money laundering prevention is one of the most computation procedures that can streamline with RPA. RPA deployment considers more cost-effective and time-efficient than labor-intensive banking solutions. Robotic process automation adoption is beneficial in terms of both money and time savings.
Handling credit card applications:
Credit card requests used to take a couple of weeks to process, resulting in consumer discontent. In some cases, it promotes the client to discontinue the demand. Banks may use RPA to expedite the process of distributing credit cards. The RPA program gathers all client documentation in a matter of hours and performs credit analysis with deep background confirmations. RPA has perfectly optimized the whole payment processing procedure, making banking employees' and consumers' life more comfortable.
Prevention of Fraud:
Banks are concerned about enhancing their fraud prevention mechanisms as the financial fraud environment changes. Banking fraud has only increased with the use of technologies. As a result, it is almost difficult for banks to verify every transfer to detect fraud. RPA employs a clever strategy to detect suspected fraud.
Benefits of RPA in banks:
RPA has various benefits in the banking business. Let's go straight into some of the more notable ones.
· RPA in banking aids in the creation of comprehensive audit tracks for every process, reducing company risk while maintaining high process improvement.
· One of the advantages of RPA in the financial sector is that it does not need any substantial modifications in infrastructure.
· Because robots are scalable, you can handle heavy loads during busy hours by adding additional robots and reacting to any scenario in real-time.
Conclusion:
RPA in banks can enhance customer satisfaction while lowering expenses and increasing performance by improving RPA. RPA Bank automation solutions help you to control manual efforts. Visit Cyclone for the best automation robotics. Cyclone Robotics has offered clients reliable services.