All about Medical RPA Robots and Its Role in Healthcare:
By using RPA software, which integrates a variety of different systems and apps, it is able to manage high-volume tasks without placing undue stress on your personnel. Medical RPA robots, in contrast to people, are incapable of taking sick days or making errors in their work. In the medicine industry, this is a crucial aspect of patient care.
Within a healthcare centre, there is often a vast network of departments and partners that must all send and receive data in a secure manner. When it comes to maintaining accurate medical records, there is no room for error when dealing with situations in which patients' lives are at risk. In addition, healthcare information technology infrastructures are notoriously difficult to maintain owing to the dizzying array of programmes, file kinds, and computer systems that are now in use. Because with medical RPA robots, healthcare industries can give their attention to providing patients with the highest possible level of care.
Advantages of RPA in the Healthcare Industry:
Following are some of the advantages.
Take Command of Your Medical Records Easily:
With the help of medical RPA robots, medical industries can extract the data more accurately, transport it, and co-exist among many providers, labs, pharmacies, and other locations.
Ensure that the Staffing Structure is Well-Balanced:
Integrate and concentrate applications such as PeopleSoft in HR, Kronos time and attendance, and ANSOS One-Staff to automate employee level management.
Ensure the Accurate Upkeep of HIPAA Security:
The RPA software operates role-based access so that administrators may monitor and control who can see confidential information.
Improve efficiency:
A decrease in the amount of money that health plans throw away every year on manual labour might be performed more efficiently with little innovation. Medical RPA robots help to streamline processes because of the increased speed and accuracy with which they do their tasks.
RPA generates enormous cost savings, which you can use toward enhancing the quality of care provided to patients by programming bots to do routine tasks.
Improving healthcare facilities via the use of data and analytics:
Automated data-collecting technologies increase the capacity to make rapid and accurate judgments about patient care. As a result, patients get better treatment and recover quicker. Hence, robotic process automation may enhance the patient care cycle by freeing healthcare workers to concentrate on patient-centred activities and areas that need human participation.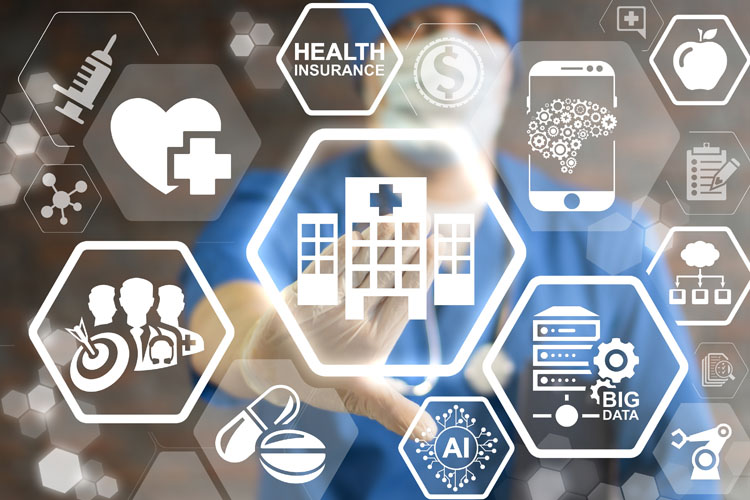 Why Should Healthcare Facilities Use Robotic Process Automation?
It is only recently that healthcare providers have started to become aware of the potential benefits that robotic process automation (RPA) might bring to streamlining their manual operations and might reduce their operating expenses. The recent global pandemic and its impact have compelled medical professionals to take note of the benefits of robotic process automation (RPA). For a long time, these experts ignored the potential advantages of RPA.
The healthcare industry is now seeing higher levels of competition than at any other time in recent history, which has resulted in a series of brand new operational and administrative challenges. Problems with operations include, among other things, collecting and storing health records, completing paperwork for insurance and coverages, and collecting and maintaining sensitive patient data. Let's know why we should use medical RPA robots.
Making and scheduling appointments:
Using a medical RPA robot to handle appointment scheduling might increase productivity. To understand the patient and deliver the most effective treatment, the doctor should have access to all patient information. This data includes the patient's name, age, gender, insurance provider, and preferences. Taking notes, organising them, and distributing them may be tedious and time-consuming. Due to the sluggish pace, errors are possible. Medical practitioners may find it easier to treat patients if they depend on robotic process automation (RPA) to perform the prevalence of non-patient-care tasks.
It will be a beneficial scenario for everyone involved, from the person who answers these calls to the doctors and caretakers and the patients themselves. Everybody recognises the value of making the process easier to follow since this leads to increased productivity.
Effectively managing claims and billing:
It is possible to manage claims and billing in an efficient manner. In the medicine industry, one's labour is never over, regardless of whether or not a patient makes a full recovery from their illness. The process will go forward when all the costs reimburse and insurance claims submission. The several sub-processes that make up this process include managing appeals, evaluating input, and evaluating said input. Automation software that compiles all the data can manage these supplementary procedures could be easy. Even if a claim is submitted that does not comply with the official standards, the RPA medical robots have the ability to detect and deny such claims.
Making the revenue cycle more accessible to customers:
RPA use AI and ML to adapt to the ever-shifting requirements of the company. It is possible to run into an expansive variety of problems with revenue cycles; nevertheless, an automated process can keep up with the codes. In this way, it can adjust to the many encountering difficulties.
Ensures overall health of a patient outside the clinical setting:
The emphasis placed on digitising data and patient records and accounts contributes to the ongoing improvement of these business processes. It helps patients maintain their health even when they are not in the clinic.
Because it would have intimate interaction with patients' medical records and data, RPA in healthcare is beneficial to patients. Even outside of the context of a therapeutic setting, the data will aid in maintaining a patient's medical record in order to guarantee that patients do not deviate from their health programmes.
Automated systems have the ability to swiftly identify instances in which patients deviate from their health plans. Once discovered, these instances trigger an alarm sent to the relevant medical expert, who may help the patient get back on track. Medical RPA robots are feasible for keeping track of an individual patient's overall health status.
Conclusion:
The influence of the global pandemic on the healthcare business necessitates the employment of medical RPA robots in the medical industry. The extra work can be done by technology even if expanding the number of employees is not possible at the moment. Since the healthcare industry relies heavily on RPA, it should begin implementing it as soon as possible. We can help you put RPA to work in the healthcare industry. Contact us immediately if you are interested in purchasing medical RPA robots.