The Indonesia Chapter of ISACA, an international professional organization in the field of information technology and cyber security held their annual conference - IT Governance, Risk Management, Assurance, and Cybersecurity Summit (GRACS) on 12-13 October 2022 at The Sultan Hotel, Jakarta. The event theme for GRACS 2022 was "Digital Trust: Recover with Confidence and Integrity", and was presented as part of a joint effort between ISACA Indonesia and all relevant stakeholders to work hand in hand in increasing shared understanding of the importance of digital trust. ISACA brought together more than 600 participants offline and online as well as 20 speakers from various industry backgrounds, including Sophia Isabella Wattimena, Chair of the Audit Board, Indra Utoyo, CEO of Allo Bank, Neneng Goenadi, Country Managing Director of Grab Indonesia.
Cyclone Robotics took part in this event as a Platinum Sponsor and we showcased our capabilities with demos and use cases at the exhibition. Key takeaways for the attendees were having AI & automation as an accelerator in their digital transformation journey in increasing workforce productivity. We also highlighted the key benefits that RPA can bring to their organisations.
Advanced Analytics and Security
Customer and Employee Satisfaction

Regulatory Compliance and Risk Management

Productivity and Efficiency

Scalability and Flexibility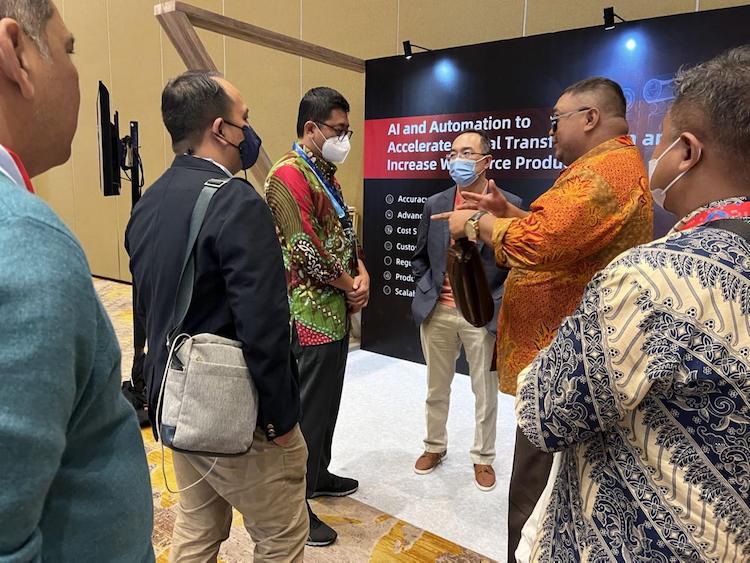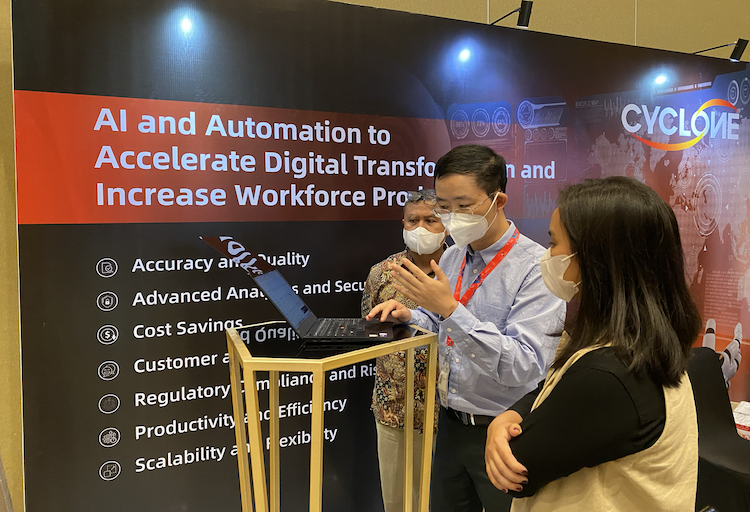 Our Global Managing Partner Fabian Wong presented his keynote speech at the event. He addressed the future of work, "With the labour crunch emerging as one of the more pressing challenges facing our workforces today, organisations urgently need to find ways to mitigate the impacts and future-proof their business. Against this backdrop, software automation has emerged as a game changer as we transition to hybrid human-digital workforce."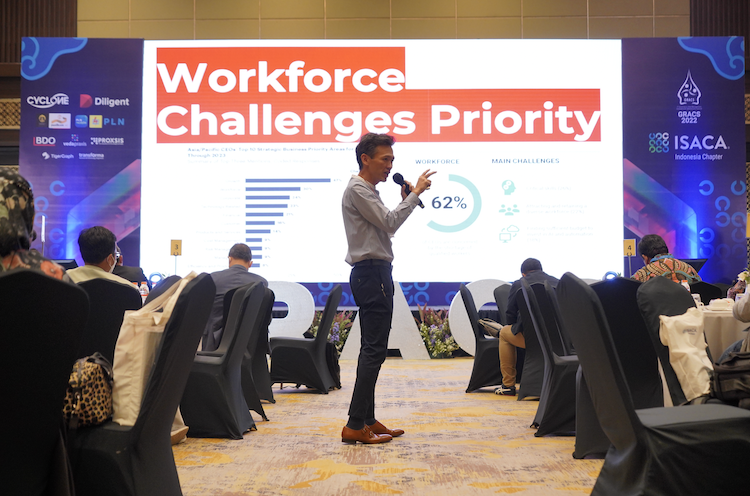 Aligning with the theme of the event, RPA fits just well into regulatory compliance and risk management to minimize fraud risks as RPA reduces user interaction to critical applications. To illustrate this, if we apply RPA in the banking industry, RPA helps in generating full audit trails for each & every process, this will reduce business risks as well as maintain high process compliance.

Fabian highlighted, "Business process improvement can be achieved with the help of technology. Automation and artificial intelligence help businesses to be more efficient and companies will ultimately be more confident when treading the path to a successful digital transformation during this post COVID-19 world."
President of ISACA Indonesia Chapter, Syahraki Syahrir, said that the development of a digital system requires the support of all parties - regulators, industry, and service providers. "We have to build this trust together, so that we have a good ecosystem that can guarantee convenience for people to be able to transact and interact further digitally."
With proven capabilities and excellent use cases from China, we are committed to supporting the Indonesia community to transform and elevate their business.