Cyclone Robotics has been named a leader in The Forrester Wave™: Robotic Process Automation In China, Q3 2022 Report. Cyclone Robotics believes this recognition from Forrester further cements Cyclone Robotics position as a Leader in the RPA market in China. Based on 26 criteria across 11 most significant providers of Robotic Process Automation, the company scored highest (4.71 out of 5) in the Current Offering category, and received the highest scores possible in the "Discovery, Bot Ideation, Portfolio and ROI as well as Bot Design and Development" criteria.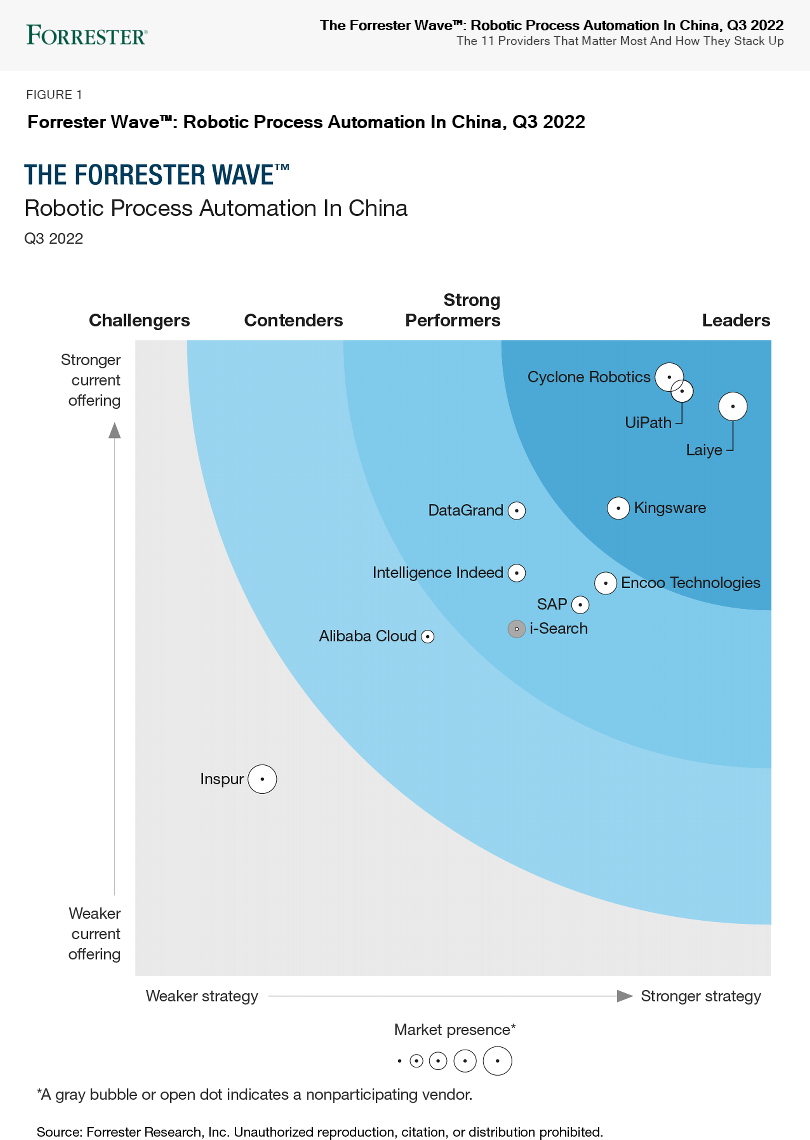 Cyclone Robotics has established very strong enterprise credentials, particularly for large enterprise clients in China, including State Grid Corporation of China, Bank of China, China Post, China Southern Airlines, China Union Pay and Volvo. Through helping clients establish automation governance structure in place, they enabled clients to scale up automation from initial routine task automation to process automation and orchestration.
"We are thrilled to receive this recognition by Forrester, a top global research firm with strong credibility. We believe it speaks volume towards our commitment of continuously pushing the boundaries of RPA as an industry leader with a customer-first mindset. We will continue to grow our global footprint by leveraging on our diverse experience across a multitude of industries to help our clients transform and modernise their business." said Vincent Gao, Founder and Chief Executive Officer of Cyclone Robotics.
In the report, Forrester emphasised that most Chinese firms have benefited from workforce hour savings or freeing up personnel to work on higher-value tasks by adopting automation. To scale up enterprise-level benefits, firms want to extend the scope of their automation projects beyond classic desktop-based tasks to more complex processes. RPA software must be scalable (and therefore suitable for complex scenarios) and appealing to both professional and citizen developers. Vendors are responding to these needs with optimized application control, advanced mobile automation support, AI-infused content analytics, RPA features addressing business users, supporting services,and partner ecosystems.
As a result of these trends, RPA customers in China should look for providers that:
Deliver broad, rich experiences for business leaders. As business experts and business process owners tap into automation, RPA software must serve these users as deeply as it does to professional developers. Equally important are the identification and prioritization of automation candidates using mining and analytics features, easy-to-use bot design, deployment, and management. Platform features for human-in-the-loop processes simplify human/machine collaboration and set clear boundaries for employee and bot responsibilities.

Integrate RPA-adjacent automation technologies. Forrester has seen ongoing convergence in the automation software sector in recent years. Leading RPA vendors influence the evolution of the automation software market by acquiring or building automation technologies that augment their pure-play RPA solutions. Examples include standalone chatbots or intelligent document platforms that enable processes with unstructured data; integration-platform-as-a-service (iPaaS) that embeds API automation; and process and task mining platforms that support local enterprise resource planning (ERP) systems out of the box.

Has comprehensive supporting services and an extensive partner ecosystem. Many firms use professional services from vendors or partners in a vendor ecosystem in the initial phase of project implementation. As automation strategies evolve, firms develop training for their IT teams or citizen developers and require sufficient materials from vendor certification programs, active online communities,and rich public lessons to speed up the learning process. Firms that plan to build or extend their automation strike team or center of excellence (COE) teams also need to examine vendor support for consulting services.
Additional findings in the Forrester report about Cyclone Robotics:
Cyclone Robotics sets the pace in feature breadth for enterprise-grade coverage. Their RPA solution has expanded coverage to process exploration, human-machine collaboration, and automation project management. It has clear go-to-market strategies for enterprises of varying sizes and a well-defined growth plan for current clients.

Cyclone Robotics' Digital Worker Platform offers flexible management and collaboration for automation projects with its business process model and notation engine; the CIRI assistant simplifies human-in-the-loop processes for business experts.
A complimentary copy of The Forrester Wave™: Robotic Process Automation in China, Q3 2022 report is available here.
About Cyclone Robotics
Established in 2015, Cyclone Robotics is a world-leading RPA provider and thought leader in hyperautomation with an average annual growth rate of 400% since 2019. The company now has more than 700+ employees across 22 subsidiaries and branches around the world, serving more than 1,000 global customers across Asia Pacific, Europe, and the Middle East. In early 2021, Cyclone Robotics established its Singapore branch to empower APAC enterprises across a wide variety of sectors to accelerate their digital transformation efforts with Cyclone's full RPA products & services portfolio. Its explosive business growth, leading technology, strong team, advanced product ideas, and ability to seize business opportunities have been particularly recognized by investors and international authorities. Continuing to be favored by front-line capital, Cyclone Robotics earned USD 150 million in Series C financing in November 2021, setting a record for the highest single financing in China's RPA industry, and becoming the first Chinese RPA provider listed in the Gartner RPA Magic Quadrant in 2021.