On March 15th, Forrester, an authoritative international research firm, released "The Forrester Wave™: Robotic Process Automation, Q1 2021" report. The Forrester report states that Cyclone Robotics enters the RPA market with fresh and innovative ideas. Cyclone believes this recognition affirms the confidence and vision of Cyclone to become a leading global enterprise software company, and confirms the innovative and progressive DNA of the team that has been in place since the company's inception.
The Forrester Wave™ is one of Forrester's most influential and market-recognized reports in the world. The Forrester Wave™: Robotic Process Automotion, Q1 2021 report identifies the 14 most significant of RPA vendors and evaluate them across 25 criteria grouped into three categories- current offering, strategy and market presence. The report helps global customers to select the most suitable RPA vendors and services for their needs.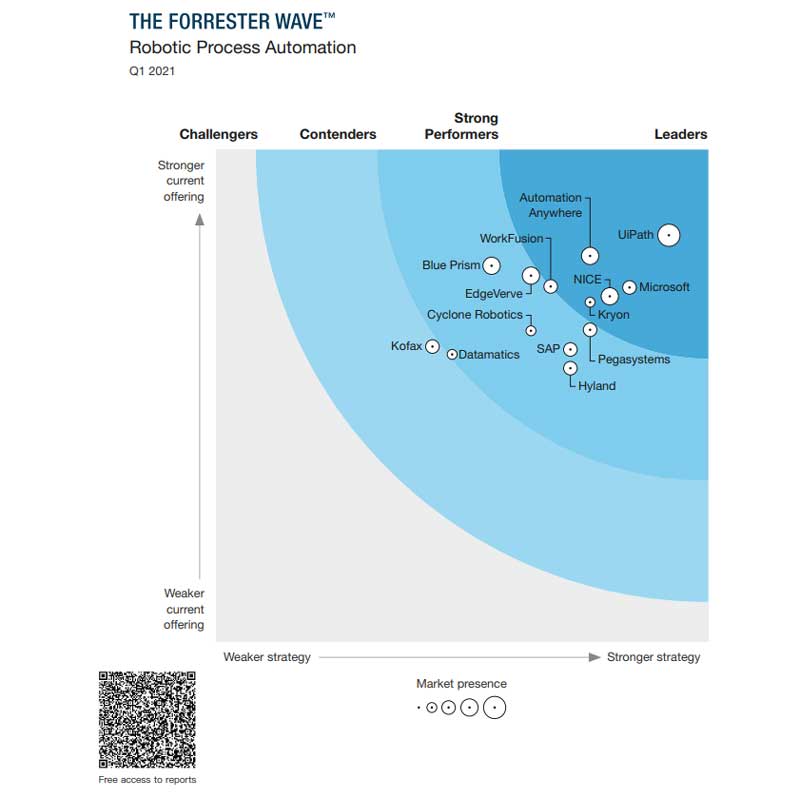 The Forrester Wave™: Robotic Process Automation, Q1 2021 report evaluates the top players in the market all around the globe, grouped by overall performance into four rankings: Leaders, Strong Performers, Contenders and Challengers. The fact that Hongji Cyclone was included in the Forrester Wave™ report and entered the Strong Performers segment signifies to Cyclone that the industry benchmark status of Hongji Cyclone has been authoritatively recognized by international independent research institutions, and Cyclone believes its comprehensive strength is comparable to that of top international vendors.
The strength of the vendor is evaluated on 25 criteria in three categories
Hongji Cyclone products received the highest score possible in six criteria
The Forrester Wave™ evaluation methodology has always been known for its rich dimensionality, comprehensive evaluation system, and independent and authoritative views. Forrester selected 14 of the most significant RPA vendors for this report, following the qualitative Forrester Wave™ methodology and combining it with additional primary research such as customer interviews to assess the overall capabilities and product performance of the vendors.
In the world-renowned Forrester Wave™ graphic, the horizontal axis represents product strategy, which focuses on the vendor's product vision, innovation roadmap, actual product performance, supporting products and service, partner ecosystem, and delivery model, and provides a comprehensive assessment of a company's and product's strategic growth potential and landscape. Hongji Cyclone scored the highest possible score (5.00) in the product vision criterion, which is comparable to eight other vendors in the report.
The vertical axis of the Forrester Wave™ report chart represents Current Offering, and Forrester evaluated a number of criteria for RPA products, In particular, it received the highest score (4.4) of any vendor in the category of bot deployment, management and analytics.
According to the Forrester report: This China-based player is new to the RPA and automation market. Founded in 2015, the vendor reports growing 400%, on average, for the past three years. Cyclone Robotics is well positioned for that growth. Expansion across APAC, EMEA, and the US — and a broader partner ecosystem — will move Cyclone Robotics up the leaderboard.
The report also highlights that " it extends applicability of its bots to the manufacturing operations space, blurring the lines between physical and virtual robots."
The product architecture of Hongi Cyclone supports the automation of business processes based on the collaboration of various roles. The designer supports rapid design, customization, debugging and automated deployment in a low-code manner for business and professional developers, and supports cross-platform deployment in various environments from mobile, desktop, server, IoT to private cloud. According to the report, Cyclone Analytics digests bot status and performance data along with events and logs for long-term analytics such as anomaly detection.
Dr. Kui Jia, Chief Product Officer of Cyclone, said, "The current booming RPA market is breeding huge and profound industry changes. Traditional RPA scenarios represented by desktop-level task automation are being expanded to richer and more complex deployment environments and enterprise-level business process automation scenarios. As a rising star in the global first-class RPA track, Cyclone has insight into the opportunities and challenges brought to RPA vendors by the digital transformation of enterprises and organizations, and has taken the lead in laying out and developing a new generation of core technologies and product matrix. In this award, top analysts in the global RPA industry have highly praised and affirmed the series of product innovations shown by the team, such as cross-platform RPA low/no code core technology, adaptability and stability to changing environments, AI skills and platform for unstructured information processing, platform-level data insight and analysis capabilities, and a series of products that can break through IT and OT environments. The company has been highly praised and recognized as 'fresh and innovative ideas'. Honggui Cyclone will also release a series of heavyweight new products this year, in response to the tide of industrial change, and to innovate and create the most value for our customers."
Cyclone: Moving forward to a world-class vendor
Since the release of the commercial version in 2018, Cyclone has been highly recognized for its technical products and service capabilities.
At present, the core product capabilities of Cyclone have further matured, and the platform-based products of data, AI and business have been laid out to strengthen the "end" capabilities of data robots, AI robots, edge computing robots and mobile robots, providing customers with an ultra-automated product portfolio and intelligent solutions from end to platform. As the first company in China to build an intelligent automation RPA platform for enterprise business flow, Cyclone also innovatively combines machine learning, deep learning, data processing and knowledge engineering technologies to serve hundreds of customers in Asia Pacific, Europe, Middle East and other parts of the world to help customers realize their vision of digital enterprise. In September last year, Cyclone received nearly $40 million in Series B funding led by Matrix Partners China, with overfunding from long-time shareholder DCM, and follow-on funding from Legend Capital, Source Capital, and Renji Capital.
Yuguang Gao, Founder and CEO of Cyclone, said, "As a young Chinese startup, Cyclone has been recognized by Forrester as a strong performer in Forrester's RPA Wave evaluation, which greatly motivates our team and recognizes, in our opinion, our continuous efforts and innovation in products, customers, markets, and partners. The RPA market is growing rapidly worldwide, and Cyclone will continue to lead the RPA track in China, actively lay out globalization, and provide flexible and stable platform-level RPA products and solutions to our customers."